Professionals committed to fulfill
our clients' "Nozomi"
The goal of our firm, Nozomi Sogo Attorneys at Law, is to make all of our clients leave our office with a smile, from struggling corporations to concerned individuals, that is our "Nozomi" (Japanese for "Hope").
"HIGH EXPERTISE", "SPEED AND FLEXIBILITY", "BEST PARTNERSHIP" and "DRIVING FORCE" – we stand by these four pillars of our philosophy, and we dedicate in always providing high-quality legal service.
One of Nozomi's strengths is that a number of attorneys have experience in working at both public and private practice, ranging from government officers to corporate in-house counsel. Their backgrounds include former public prosecutors from the Tokyo District Public Prosecutors Office's Special Investigation Unit, former employees from the Inspection Bureau of Financial Services Agency, the Securities and Exchange Surveillance Commission, the Bank of Japan, the Japan Fair Trade Commission and other local governments. These experiences enable them to provide excellent legal services in the relevant areas such as white-collar crime, cooperate risk management, antitrust law, investigations for financial institutions and other types of legal compliance and regulatory issues. In addition, many of our attorneys have experiences in working as in-house counsel at major corporations in Japan. We also actively accept secondment of in-house counsel from our corporate clients to work with us from time to time, which furthers us to gain more business-specific perspectives.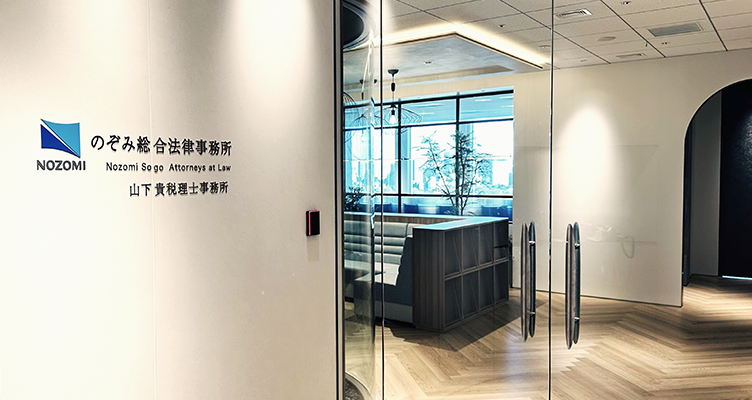 Our attorneys with different expertise enable our firm to provide wide range of legal services for our clients, as we create a team tailored to specific cases and projects to provide the best possible solution. As listed in the "PRACTICES" section, we handle various cases, such as large corporations' complex cases, multiple-jurisdiction cases, civil disputes, family matters as well as criminal cases. We can efficiently set up a right team specific for your case needs with external specialists such as accountants and tax advisors for M&A projects and tax litigation, Certified Administrative Procedures Legal Specialists (gyousei shoshi) for immigration cases and many more. We also have a broad network worldwide, with law firms in the U.S., Korea and other countries and closely coordinate for cross-border matters.
At Nozomi, we enthusiastically support attorney pro bono work. Our attorneys contribute to activities of the Bar Associations, and some of them formally served as Vice President and Deputy Secretary General of the Japan Federation of Bar Associations, Chairman of the Kanto Federation of Bar Associations, and President and the Vice President of Daini Tokyo Bar Association. Among other things, our attorneys often provide courses at law schools and the Legal Research and Training Institute. Our pro bono activities further include legal support in areas where there are not enough lawyers and regions hit by huge earthquakes. We strongly believe in the importance of contributing to our community, through changing the systems, policies and education. These activities are also great benefits in improving and broadening our skills and perspectives, helping us better serve our clients.
<Our Los Angeles Office>
Nozomi Sogo Attorneys at Law opened its new office in Los Angeles, California (Nozomi Los Angeles Law Office) in March 2018. The office is led by Of Counsel, Daisuke "Danny" Wakamatsu.
Mr. Wakamatsu has extensive experience in cross-border transactions including M&A transactions, joint ventures and commercial agreements representing corporations in various industries. Before joining Nozomi, he worked at Tokyo offices of major international law firms, as well as an in-house counsel in both Japan and the U.S. He is admitted in California and Japan.
Nozomi's international practice team, led by Daisuke "Ike" Yuki, has long been assisting our clients in a broad range of fields, including M&A transactions and joint ventures in numerous countries including the U.S. and Korea, commercial agreements such as licensing agreements and distribution agreements, US litigations regarding FCPA and international price fixing, international corporations' global compliance programs, and the governance of overseas subsidiaries.
With Mr. Wakamatsu now leading our Los Angeles office, Nozomi will further expand our international law practice, and be able to globally support our clients.
Our History
In 1995, Nozomi Sogo Attorneys at Law was found in Tokyo by Tsugio Yada (Managing Partner), who had been a member of the Special Investigation Unit of the Tokyo District Public Prosecutors Office until 1989, and Toshiaki Tochigi, an attorney since 1979, and other three lawyers.
Today, we have more than 30 attorneys and are still expanding both in number and areas of law we handle.
Our Clients
We represent wide range of client tiers, such as large public companies listed on the Tokyo Stock Exchange, small to mid-size businesses and international corporations.
We are capable in handling all major industries, such as financial services, manufacturing, construction, engineering, public transportation, aviation, trading, clothing, food and beverage, service business, franchise business, education, healthcare, entertainment, advertisement, broadcasting, IT and more.
Logo of "Nozomi"

Our logo has, in the motif of "N" from the firm name, a design of a flag under which people come together, and a sail of a ship boldly sailing out on the sea. We put our "Nozomi" to see smiles on all faces of our clients into this logo.
OFFICES
Firm's Name

Nozomi Sogo Attorneys at Law
(Los Angeles Office: Nozomi Los Angeles Law Office)
Address

Tokyo Office
Hulic Kojimachi Bldg. 8F, 3-2, Kojimachi, Chiyoda-ku
Tokyo 102-0083 JAPAN

Los Angeles Office
1901 Avenue of the Stars, 2nd Floor, Los Angeles, CA 90067 USA
TEL / FAX

Tokyo Office
TEL. +81-3-3265-3851
FAX. +81-3-3265-3860

Los Angeles Office
TEL.

+1-310-919-3268
ACCESS
Tokyo Office
Los Angeles Office